Monday Night – Danièle Huillet & Jean Marie Straub Evening - 12.04.06 -- 12.04.06
Monday Night – Danièle Huillet & Jean Marie Straub Evening
CONTENTS:
1. About this Monday
2. About the contents of this email
3. Jean-Pierre Gorin after funeral
4. Comments from Straub - Venice
5. Reuters style - Venice
6. Intermezzo
7. Useful Links
8. Links to Huillet-Straub films online
9. On Harun Farocki's "At work on Franz Kafka's Amerika"
10. On Pedro Costa's "Where Has Your Hidden Smile Gone?"
11. Intermezzo
12. Serge Dany on Amerika
13. About "Class Relations" and NYT film review circa 1984
14. An interesting film review from Jonathan Rosenbaum
15. Filmography
16. Epilogue
___________________________________________________
1. About this Monday
When: Monday Dec. 4, 2006 at 7:30pm
Where: 16 Beaver Street, 4th floor
What: Danièle Huillet & Jean Marie Straub Evening with Screening & Discussion
Who: As always our event is free and open to the public
We DO NOT want to mark this event with a long (winded) introduction. Danièle was always concise and precise in her selection of words and her communications.
As some of you may already know, in early October, Danièle Huillet died at the age of 70.
Danièle's work with Jean-Marie Straub - their persistence, insistence, and their absolute commitment to their methodology and politics – has already marked them as one of the most important filmmaking collaborations in history. And they have somehow managed to remain in that liminal space between imperceptibility and anonymity while also making a profound impact on those they touched (and they were many). Gilles Deleuze once referred to their work along with the films of Alain Resnais as the most important political films of the 20th Century. It still remains for us to consider and understand that provocative assertion.
Several friends and individuals involved with 16Beaver, had in these last years, an opportunity to meet with them and to exchange some thoughts. We hope this evening will bring out others who care for or are curious about their work.
This is our best way to remember and to mark an artist who gave her life to her political ideals, who recognized the necessary link between the daily decisions and forms of life and the politics one strives for.
This is our way to commemorate Danièle's vitality, strength, and force. We hope those who already know or are interested in the work of Huillet-Straub will attend.
Note about event:
We will likely screen a 26 minutes video made by Harun Farocki made while they were filming Class Relations (Klassenverhältnisse, 1983). We have a few other films of their's so based on what the group decides, brings with them, offers for conversation, we may watch or discuss something else. Also a special thanks to Miguel Abreu for give us access to his library.

___________________________________________________
2. About the contents of this email
This email was produced after a long day, just gathering an assortment of what was available online. The references are too many to name but thanks to all the people who have attempted to share what they have related to the work of Huillet-Straub.
What follows is in no particular order, it is a montage of materials related to our evening and things that were of some interest.

___________________________________________________
3. e-mail from Jean-Pierre Gorin after funeral
Danielle Huillet's Funeral...
The first film she directed with Jean Marie Straub made me a filmmaker. This was 1965, I was twenty-two. I walked into a theater that played Nicht versöhnt oder Es hilft nur Gewalt wo Gewalt herrscht. (Not Reconciled or Only Violence Helps Where Violence Reigns). How could i resist then a title that encompassed so absolutely my music? I went through the film not understanding anything about it, but by the end of it something strange had happened: I who did not know a word of German was persuaded that somehow I now understood it with absolute clarity. I came out the theater wanting to be involved in a medium that could perform such close up magic. And still to this day what happened to me as I watched Nicht Versöhnt is the best definition I know of what a political film is or should be. There are a few people in my life whose existence alone protects me somehow. Danielle was one of them.
The fact that such a raging love for craft, such a raging love for life was alive protected me ...
She made an extraordinary couple with Jean Marie, cantankerous, obsessed with work, opened every day more to the simplest beauties of the world because they never could stop being enraged at what fouled it ... you took one look at the way they moved in relation to each other and understood their choreography;you heard one of their exchange and caught the music of it: never two people spelled the word love with more clarity; never two people gave me more the sense that exigency could be joy ...
And now I am left fearing for Jean-Marie's life ... I could imagine her surviving him, but not him surviving her ...
Like all funerals It had of course this Proustian devastating feeling of Le Temps Retrouve. A hundred folks were there with "la gueule de circonstance." JLG and Anne Marie ... others you don't know that punctuated Danielle's life. A smattering of young faces pushed the day away from despair and into hope. It is the graceful duty of youth. Jean Marie was there (there had been rumors he wouldn't be) with his eternal cigar, dressed as non funeral as one could be. Her face was left visible, its stern, tender beauty framed by a small vista cut in the closed casket. A Byzantine icon. The wind and the sound of the traffic outside of the cemetery ate away at the words that were quoted before she got carried to the grave. I heard a text in German and the words "I will not name the name of the one whose name is stronger than love itself ..." We file by the grave, dropped roses in this shaft so deep and so dark that we measured for the first time how irremediably gone she was. Jean Marie seated on the next tombstone looked on. A funeral attendant handed him a bouquet of roses. He walked to the grave, threw it in. An amazing yell of rage at death and its works came out of him and he ran, ran away amidst the graves, howling in pain with friends in pursuit. They brought him back. He witnessed the closing of the grave, his body half bent as if he had been hit in the stomach by the force of a blow, and he raised his left fist in the proud hopeful salute of the Popular Front strikers of France, the Republican fighters of Spain and the Communists of Germany when the stone finally slided tight.
JLG, Anne Marie and I walked arms in arms in the shaded alley for awhile. I was left alone finally, walking for the rest of the afternoon and the night that followed before I grabbed a flight back to the States.
[ ... ]
___________________________________________________
4. Comments from Straub at recent premiere of their film in Venice
The third comment caused quite a stir in the Italian media, but was not reported so much internationally.

From http://www.mastersofcinema.org/straub.html
by Craig Keller (for MoC), September 2006.
Full english translation of Straub's "Three messages" to Venice.
A new film by Jean-Marie Straub and Danièle Huillet, Quei loro incontri ("Those encounters of theirs"), had its world premier a few days ago in competition at the Venice Film Festival. The movie's dialogue consists of the last five dialogues of Cesare Pavese's Dialoghi con Leucò ("Dialogues with Leuco"). And the jury (headed by Catherine Deneuve) had determined to give a special Lion to the Straubs "for invention of cinematic language in the ensemble of their work." The Straubs, however, did not show up for their film or ceremony. Instead they sent a number of their actors who left Pisa at 4 a.m. to be in Venice on time for the film's press conference, where Festival director Marco Müller announced Danièle was ill and that Jean-Marie had sent a statement, which Giovanna Daddi, one of the actors, read:
=======================
Three messages
Jean-Marie Straub
First) It's come too soon for our death - too late for our life.
Anyway, I thank Marco Müller for his courage. But what do I expect from it? Nothing. Nothing at all? Yes, a small revenge. A revenge "against the intrigues of the court," as is said in The Golden Coach. Against so many ruffians.
Why Pavese?
Because he wrote:
"Communist doesn't mean just wanting to be. We're too ignorant in this country. We need communists who aren't ignorant, who don't spoil the name."
Or again:
"If once it was enough to have a bonfire to make it rain, or to burn a vagabond on one to save a harvest, how many owners' houses need to be burnt down, how many owners killed in the streets and squares, before the world turns just and we have our words to say?"
Pavese has the bastard say: "The other day I passed by the Mora. The pine tree by the gate's not there anymore." Replies Nuto: "The bookkeeper had it cut down -- Nicoletto, that ignorant man. He had it cut down because the tramps would stop in its shade and beg, you understand…"
Again Nuto, elsewhere:
"Given the life he leads, I can't call him a poor fool, as if it would do any good… First, the government should burn up all the money and the people who defend it."
Best wishes.
Second) I have been:
1. at the Venice Festival (as journalist) in 1954, I chose to write on three films:
SANSHO DAYU -
EL RIO Y LA MUERTE -
REAR WINDOW.
No prizes!
2. At the Festival (short films) in 1963 with my first film MACHORKA-MUFF('62): no prize.
3. At the Festival in '66 with NICHT VERSöHNT (Not Reconciled, 1965). Projection paid for by Godard!
4. At the Festival with CHRONICLE OF ANNA MAGDALENA BACH !
5. At Venice for retrospective in 1975 (wanted by Gambetti) of all our films up to MOSES AND ARON (included), 1974.
At the Festival of Cinematographic Art with Quei loro incontri for A Roaring Lion.
Third) Besides I wouldn't be able to be festive in a festival where there are so many public and private police looking for a terrorist - I am the terrorist, and I tell you, paraphrasing Franco Fortini: so long as there's American imperialistic capitalism, there'll never be enough terrorists in the world.
=======================
Marco Müller then closed the Press Conference without any of the actors getting a chance to say a word. (Straub's citations are from Pavese's La luna e i falò [The moon and the bonfires], which the Straubs filmed in 1979 as part of Dalla nube alla Resistenza [From the cloud to the Resistance].)
Straub's messages caused a furor at the Festival and in the Italian press -- but have been virtually unreported outside of Italy. Was an award still in order? The jury met again. At least one jury member, American Cameron Crowe, objected it was not opportune, on the eve of the anniversary of 9/11, but consented on an understanding that the Festival would "distance" itself from Straub's "anti-American" message. (Apparently it's anti-American to oppose imperialism.)
The award was given but the "distance" was not announced -- thank goodness! We have nothing to fear from the world being filled with "terrorists" such as Straub defines himself -- people making movies like Straub. But we have everything to fear from neo-McCarthyites who seek to hinge artistic recognition on an endorsement of imperialism.
-Tag Gallagher

___________________________________________________
5. This is a report from Venice Reuters style
And this from Reuters on their last film, more for the clueless-ness that passes as journalism today:
Cryptic film baffles Venice festival
VENICE (Reuters) – The Venice film festival has a reputation for screening obscure auteur movies. But Daniele Huillet and Jean-Marie Straub's QUEI LORO INCONTRI, or THE MEETING, must rank among the most baffling films ever shown in the prestigious festival's main competition.
The picture is divided in five parts, each featuring two people delivering philosophical dialogues between classic Greek characters. The conversations about humanity are those of the "Dialogues with Leuco" by Italian writer Cesare Pavese, and in the film they are interspersed with long silences. Nothing happens. The characters stand still in a wood or on a hill and in the opening chapter are mostly seen from the back. Apart from their voices, the only other noise is that of birds singing and water streams trickling.
At a media screening this week, film critics started walking out barely 10 minutes into the one-hour movie, although it did win applause by a group of fans.
The French-born filmmakers directed another movie on the same work by Pavese 27 years ago. Now both in their 70s, they could not come to Venice because of health problems. Straub however sent a message, almost as cryptic as his work.
He thanked festival director Marco Muller for his "courage" in picking THE MEETING for the competition, noting that his previous films had never won in Venice. Then he added, apparently referring to the tight security on the Lido:
"I would not be able to celebrate in a festival where there are so much public and private police looking for a terrorist. I am that terrorist. As long as American imperialistic capitalism exists, there won't be enough terrorists in the world. All the best, Jean-Marie."
Asked about the meaning of the film, a member of the mostly non-professional cast told Reuters: "You should ask the directors, I am not a cinema expert. But these are dialogues about how the world goes."
The film was panned at a popular public notice board on the Lido where ordinary movie-goers scribble their views.
"Please tell us: is this a mega joke?" one asked. Another advised the directors: "If you were traumatised as a child, you should go and see a psychiatrist."
Silvia Aloisi
___________________________________________________
6. Intermezzo
When Godard complained that Straub and Huillet's film The Chronicle of Anna Magdalena Bach did not have enough relevance to contemporary problems, Straub replied that the film was his contribution to the struggle of the North Vietnamese against the Americans.
___________________________________________________
7. Useful Links
Related links on the 16 beaver group website:
http://www.16beavergroup.org/mtarchive/archives/002030.php
http://www.16beavergroup.org/mtarchive/archives/002093.php
http://www.16beavergroup.org/events/archives/002037.php
http://www.16beavergroup.org/monday/archives/001310.php
http://www.16beavergroup.org/monday/archives/001308.php
The link below is a very nice tribute to Danièle which includes 4 different texts:
http://www.fipresci.org/undercurrent/issue_0306/huillet_intro.htm
http://www.fipresci.org/undercurrent/issue_0306/huillet_rosenbaum.htm
"Straub, Hölderlin, Cézanne" by Dominique Païni
http://esvc001106.wic016u.server-web.com/contents/06/39/straub_holderlin_cezanne.html
A panel discussion with Huillet and Straub.
http://theater.kein.org/node/147
For those who can read German, you can visit NEW FILMKRITIK online:
http://filmkritik.antville.org/stories/1504543/
http://filmkritik.antville.org/stories/1463920/
http://filmkritik.antville.org/stories/1473886/
Another helpful blog and a nice obituary
http://kinoslang.blogspot.com/2006/10/danile-huillet.html
___________________________________________________
8. Links to Huillet-Straub films online
a. There's their 12 minute short film EUROPA 2005, 27 OCTOBRE (2006), shot last spring and, though it may be shown as an anonymous cine-tract, it will screen along with 4 of their Italian films at the Villa Medici on October 21st. The film was commisioned by Enrico Ghezzi as a "sequel" to Rossellini's EUROPA '51 and the "27 OCTOBRE" of the title refers to the day two teenagers (Bouna Traore, 15, and Zyed Benna, 17) were electrocuted and killed while hiding from the police in an electric station - the event that sparked the uprising in France last year.
Huillet, Straub and two other filmmakers shot the film on digital video (their first) on the site of the teen deaths, in the suburb Clichy-sous-Bois.
The first video made by Straub-Huillet
http://video.google.com/videoplay?docid=-3238754652290051467&q=Straub-Huillet&hl=en
b. Link to a segment of Pedro Costa's documentary "Where Does Your Hidden Smile Lie?" about the two:
http://www.youtube.com/results?search_type=related&search_query=Huillet%20Straub%20Costa
c. Link to a short film En rachâchant, based on Duras by Huillet-Straub
http://www.youtube.com/watch?v=-VKlaNGcaHk&search=Huillet%20Straub%20Costa

___________________________________________________
9. On Harun Farocki's film
From Video Data Bank, a description of Harun's film:
http://www.vdb.org/smackn.acgi$tapedetail?JEANMARIES
Jean-Marie Straub and Daniele Huillet at Work on Franz Kafka's "Amerika"
26:00 1983
"This film is at once a self-portrait and an homage to Jean-Marie Straub, Farocki's role model and former teacher.
Farocki's admiration for Straub was so great that he said of Between Two Wars, "Perhaps I only made this film to earn Straub's recognition." In this observation-driven film, Farocki documents the fulfillment of his wish.
The film shows Farocki, under Straub's direction, rehearsing for his role as Delamarche in the film Klassenverhältnisse (1983). Anyone who has seen Farocki's documentary of the shoot will never forget these short scenes.
The directing technique of Jean-Marie Straub and his wife Daniele Huillet is so repetitive and detail-obsessed that the performers are made to rehearse the scenes to the point of exhaustion. Straub manages his actors like a theater director.
The very fact that it is unusual among filmmakers makes it well worth having captured Straub's working methods on film. Farocki filmed a work of resistance against traditional cinema, against which his own films rebel."
--Tilman Baumgärtel
Jean-Marie Straub and Danièle Huillet at Work...
...on a Film Based on Franz Kafka's Unfinished Novel 'America' (Harun Farocki, 1983)
The French word répétition - rather than the English word rehearsal - more closely captures the implicit connotation behind Straub and Huillet's rigorous and exacting method of preparation for the shooting of Class Relations. A seated Straub asks the actor Christian Heinisch (who plays Rossmann) to deliver his lines over and over, each time, subtly modulated from the last - muting intonation, eliminating traces of colloquialism, and controlling the pace of enunciation - to better reflect the transcription of the written text.
The attempt to elicit a certain decontextualization and particularity to the actor's manner of speech is coincidentally similar to the black screen rehearsal opening sequence of Chantal Akerman's contemporary film, The Eighties. On one occasion, Straub makes a meticulous observation that the duration of Heinisch's pause was equivalent to that of a period rather than a comma as defined by the manuscript. The reference to meter and speech also introduces the idea of rhythm and musicality in their methodology, and is reinforced in the repeated image of Huillet replicating the sound of a clapboard at each simulated take. In another occasion, Heinisch is given instructions to flatten the delivery of his lines when approaching another off-screen actor who is directed to collapse on cue, explaining that his character is motivated by curiosity and not concern.
In another sequence, Harun Farocki (in the supporting role of Delamarche) is directed to straighten his bent leg when responding to Rossman's inquiry over a missing photograph, an action that Farocki performs with the inertial awkwardness of discontinuous motion, and repeatedly rehearses to the point of fluidity.
Huillet: The final question is, does Harun sit or stand?
Straub: If Harun stands, he will look in a different direction. You leave him seated.
The final sequence of the actual location shoot underscores this methodical rigor, filming the same scenario beyond the realization of his acknowledged "best take":
"It's improving all the time so you don't need to worry...Thank you. That was very good. A final one. We still have 20 meters left, continue in this way..."
___________________________________________________
10. On Pedro Costa's "Where Has Your Hidden Smile Gone?"
Nearly twenty years after Harun Farocki paid homage to the profound influence of Straub/Huillet's cinema by filming their exhaustive rehearsal process during preparations for the shooting of their film Class Relations for the documentary Jean-Marie Straub and Danièle Huillet at Work..., Pedro Costa captures their equally exacting process of editing their feature film, Sicilia! in Where Has Your Hidden Smile Gone?. Indeed, as Farocki's film intrinsically captures the filmmakers' working methodology through the framework of his own recurring themes of automation and systemization of processes (even as they apply to the human process of creativity), so, too, does Costa's film illustrate the particularity of their methodology through his own characteristic preoccupation for capturing the allegorical in the quotidian. Curiously, inasmuch as both films capture the rigorous and deliberative nature of their creative process, it is only through the complementation of both films that the nature of the Straubs' collaborative process begins to truly emerge - a portrait, not of inequitable roles of visionary and confidante (as implicitly suggested in the Farocki film as Huillet's role during rehearsals is seemingly reduced to that of advisor and clap board simulator), nor implementer and consultant (as illustrated in the Costa film where Straub is shown to be the intrusive, occasionally tangential, gregarious observer - and comical counterfoil - to the more focused, serious-minded, and methodical Huillet who is editing the film), but rather, as equally creative contemporaries with instinctively defined, yet interactive roles throughout the filmmaking process: one, more conceptual and abstract, the other, more pragmatic and methodical. Ironically, this tumultuous, often colliding process of interactivity itself between theory and application, idea and implementation reflects the complex, yet delicate alchemy of the medium itself, a creative struggle that is articulated by the roguish Straub's impassioned commentary on the subordination of form over idea in Where Has Your Hidden Smile Gone? that is integral to the realization of their aesthetic.
"The form of the body gives birth to the soul. I've said that a hundred times. ...When someone says, 'Yes, the form, it's the form, the form, never mind the idea', that is a sell-out. It's not true. You have to see things clearly: First, there is the idea, then there is the matter, and then the form. And there is nothing you can do about that. Nobody can change that! ...And through this work, the struggle between the idea and the matter, and the struggle with the matter, gives rise to the form. And the rest is just filling material. ...The same goes for the sculptor. He has his idea and gets a block of marble and he works the matter. He has to take into account the nervures in the marble, the cracks, all the geological layers in it. He just can't do whatever he wants."
This intrinsic "struggle with the material" that defines the process of creation also serves as an allusion to the hidden smile of the film's title. In an illuminating sequence during the editing of a train conversation scene in Sicilia!, Huillet attempts to convey an actor's unarticulated, knowing smile - an illustration of his realization that a passenger seated across from him lied about the nature of his employment - by finding an appropriate intercutting image from their brief exchange. But how can this uncaptured, hidden smile be revealed when the facial expression itself does not manifest in the any of the shot footage? Poring over each frame in search of the indefinable glint in the actor's eye in search of that fleeting image that betrays his disbelief to no avail, their strategy is then to abruptly truncate the shot at the final syllable of the passenger's staccatoed delivery such that the consequence of the lie does not dwell on the prevaricator's image - and implicitly suggest his deliberation over the ramifications of his own statement - but rather, on the delayed response of the listener to suggest his evaluation (and dismissive deduction) of the passenger's seemingly incongruous statement. It is this process systematic refinement - a struggle with the intrinsic properties (and inherent limitations) of the given matter to create implication through elision that is also reflected in Straub's subsequent exposition on the aesthetic evolution of their cinema.
"Most of us begin with a cliché - not always, but most of the time - and that's fine but you have to look at it from all sides and clarify it. So you start with the idea of a discovery, showing a mountain without the window, without anything. A torn curtain. Then you ask yourself, but why? It will inhibit the viewer's imagination instead of opening it up and you say to yourself: 'Yes, after having filmed Mount Thebes in Moses and Aaron, after having filmed Mount Etna, Mount Sainte-Victoire, why add another one?' And so you renounce slowly. Then one fine day, one fine day you realize that it's better to see as little as possible. You have a sort of reduction, only it's not a reduction - it's a concentration and it actually says more. But you don't do that immediately from one day to the next. You need time and patience."
As the filmmakers alternately engage in recounting personal anecdotes, gentle natured marital sparring, and professional ruminations over their collaborative cinema, what emerges in Costa's reverent and understated portrait is an affectionate, humorous, and indelible image of profound kinship and creative symbiosis - an idiosyncratic, modern-day love story that fuses passion with politics, creativity with conviction - told from the privileged intimacy of irascible, enduring romantics, intellectual peers, social activists, obsessed cinephiles, ageless idealists, and innovative, mutually-inspiring artists.
___________________________________________________
11. intermezzo
Cezanne voice over
Cezanne (the voice-over):
"Look at that...the Victoire de Samothrace. She's an idea, she's a whole people, a heroic movement in the life of a people, yet the fabric clings to her legs, her wings flutter, her breasts swell. I don't need to see her head to imagine her look, because all the blood which beats, circulates, sings in her legs, her hips, throughout her body, has passed in torrents into my brain and has entered my heart. When the head is gone, so what, the marble has bled...While up there in the primitives, you can chop the necks of all those little martyrs with the executioner's sword and there's a little vermilion, a few drops of blood...They have already flown bloodless up to God. Souls can't be painted. And here, Victory's wings, you don't even see them, I don't see them anymore. We don't think about them anymore, they seem so natural. Her body doesn't need them to be able to fly away in full triumph. It has elan...Whereas the haloes of the virgins and saints surrounding Christ, one sees only them. They impose themselves on us. They embarrass me. What do you want? You can't paint souls. You paint bodies, and when bodies are well painted, then, damn it, the soul, if they have one, the soul radiates and shows through from everywhere.
(...) but I know nothing colder than his (David's) Marat! What a petty hero! A man who had been his friend, who had just been assassinated, whom he should have glorified for all of Paris, for all of France, for all posterity. Did he just toss that sheet over him and wash him off in his bathtub? He was thinking about what people would say about the painter and not what they would think about Marat. It's a bad painting. And he had the cadaver right in front of his eyes!".
Une visite au Louvre

___________________________________________________
12. Serge Dany on Amerika
The tyranny of English!
Un soir, à Beaubourg, mêlés à quelques curieux, clochards et autres vigiles, quelques membres de l'I.S. ( " Internationale Straubienne " ) se retrouvent à la façon de premiers chrétiens qui, avant d'aller souffrir le martyre, auraient commencé par fonder un ciné-club itinérant. Grâce à Franz Kafka (que Beaubourg honore), ils ont pu voir en avant-première le dernier film de Jean-Marie Straub et Danièle Huillet, inspiré de " L'Amérique ".
Amerika / Klassenverhältnisse est le titre allemand du film. Des deux, le mot le plus long et le plus marxien signifie " rapports de classes ". Et les mots étant ce qu'ils sont (plutôt joueurs), c'est bien de " classe " qu'il s'est agi ce soir-là. Mais au sens où un éducateur la fait, au sens où on peut la redoubler, ou avoir (comme beaucoup, de plus en plus) envie de la " sécher ". Bien à tort. Pédagogues non-conformistes, les Straub, faufilés entre les questions (naïves, savantes ou agacées) de leur public d'un soir, ont fait un brillant numéro. Pendant que les femmes de ménage de Beaubourg (rapports de classe oblige) nettoyaient la salle de projection et que les vigiles (idem) talkaient-walkaient, ils ont parlé cinéma. Et, comme on dit chez Renoir : ces choses-là, " ça se perd ".
Straub n'a jamais fait recette ( un peu, quand même, pour la Chronique d' Anna Magdalena Bach, 1967) mais ses films ont souvent fait peur. Cette façon de prendre le cinéma à bras le corps -body and soul - est vraiment trop loin des théories de la communication molle et du ciblage obligé telles qu'on les parle dans le showbiz. Trop " hard ", trop simple. Et en plus, les Straub ont eu le mauvais esprit de ne jamais présenter leur travail comme " marginal " mais - nuance - comme minoritaire. Ils ne sont même pas dans un ghetto mais d'où ils sont, ils tiennent au Cinéma comme à un fil d'Ariane. Faux juif (mais il a consacré un triptyque à la question), vrai exilé (de Metz à Rome, en passant par Munich), objecteur de conscience (pour cause de Guerre d'Algérie, 1959, amnistié en 1971), Jean-Marie Straub, né en 1933, est " trop vieux " (l'un de ses leitmotive) pour parler de ses films autrement qu'en grand seigneur: C'est lui qui est pauvre mais ses films (qui sont aussi ceux de Danièle Huillet) sont comme des enfants qui ont, comme disent les pauvres," tout ce qu'il faut ".
Pas un centime, pas une lire, pas un mark dont Straub (et surtout Huillet) ne connaissent personnellement la provenance, la circulation et l'usage. La bonne compréhension des " rapports de classe " commence tout bêtement par celle du rapport qualité-prix. Et c'est bien parce qu'il a perdu ce rapport de vue que le cinéma actuel est menacé par l'inflation et par la boursouflure. Straub-Huillet (comme Godard, Duras ou Rohmer) sont par excellence les ciné-artistes (je ne dis pas " auteurs ", je le fais exprès) de l'époque où l'image et le rôle du producteur se sont effacés. Produire, pour eux, c'est produire tout à la fois leur vie et leur œuvre, ou, plus modestement, leur travail et leur force de travail. Ce qui précède n'est pas une précaution oratoire pour présenter, une fois de plus, les Straub et leur cinéma comme " incontournables ", "ascètes rigoureux ", "sublimes mais chiants ", " purs et durs ". Cela n'a été que trop fait. Et puis il y a trop de ressentiment dans la façon dont on dit du bien des " purs ", trop de haine envers l'illusion qu'ils nous donnent d'avoir choisi eux-mêmes, c'est-à-dire sans nous, les contradictions où vivre (les saints sont infréquentables, on ne peut que les rencontrer de temps en temps, d'où l'I.S.). Ensuite il y a que depuis 1962, neuf longs métrages et cinq courts constituent - qu'on le veuille ou non, qu'on l' ait voulu ou non - une œuvre (prenez garde à ce petit mot: il y aura encore de beaux films mais qui nous dit qu 'il y aura encore des " œuvres " de cinéma?).
Enfin, le temps joue pour les Straub. Pas parce qu'ils deviendraient soudain très populaires (encore qu'Amerika / Klassenverhältnisse soit leur film le plus limpide) mais parce que la distance qu'ils ont mise très tôt entre eux et le " monde du cinéma " et la solitude qui est le lot de ceux qui ne comptent " que sur leurs propres forces " deviennent le sort commun et obligé des cinéastes plus jeunes qui, aujourd'hui, c'est-à-dire bien tard, auraient la légèreté de vouloir bénéficier de l'aura romantique et de la " liberté d'expression " de l'auteur sans avoir eu le temps de s'aguerrir à ce que cela signifie. Ce temps, les Straub (sans doute parce qu'ils étaient deux) n'ont pas perdu de temps à le prendre. Et si, ce soir-Ià, dans l'entresol cafardeux de Beaubourg, il y avait quelque chose de vraiment fort qui passait dans ce qu'ils disaient, quelque chose qui interroge encore le monde par le moyen du cinéma, c'est qu'ils ont mis tout leur orgueil à penser que rien, jamais, ne leur .serait dû.
3 octobre 1984

___________________________________________________
13. About "Class Relations" and NYT film review circa 1984

Class Relations
Financed in Germany and filmed in New York, Class Relations is adapted from Franz Kafka's unfinished novel Amerika. Christian Heinisch plays a bourgeois German forced to leave his homeland after a scandal. He accepts his uncle's invitation to move to America, where he takes a succession of "Joe Jobs." Heinisch tries, but he is unable to shake off his old-world customs. Worse, the class structure in Europe never prepared him to have to actually use his hands to make a living. Rather than tack on an ending of their own, writer/directors Daniel Huillet and Jean-Marie Straub conclude Class Relations in the same manner that Kafka left Amerika behind when he died--with the hero's ultimate fate still in limbo.

'CLASS RELATIONS' IS BASED ON KAFKA
By VINCENT CANBY
Published: October 7, 1984
More than the films of any other directors, the minimalist works of Jean-Marie Straub and Daniele Huillet, his wife and collaborator, demand that one be in a mood so receptive that it borders on the brainwashed.
If one is worried about a telephone bill or is thinking about train schedules, or if the air-conditioning system is circulating air that's more chilled than necessary, one cannot attend to a Straub-Huillet film with the proper concentration. Given the slightest excuse, the mind flees the relentlessly purposeful inaction on the screen.
This is said by way of confession for I've been fascinated by at least two of their films - ''The Chronicle of Anna Magdalena Bach'' and their adaptation of Arnold Sch"onberg's ''Moses and Aaron'' - and been threatened with dreamless slumber by others.
Their latest, ''Class Relations,'' based on Franz Kafka's first novel, ''Amerika'' (1912), falls somewhere between the two extremes, possibly because when I saw it at a press screening I'd already seen one film in the morning and was freezing through this, the second film of the day. ''Class Relations'' is far less minimal than even ''Moses and Aaron,'' but then it doesn't have Sch"onberg on the soundtrack.
There's also the problem that the Straubs's dry, deadpanned cinema is not really as well suited to this particular Kafka work as one might expect. Like the Straubs, Kafka resolutely refuses to evoke any kind of emotional identification in his audience. Yet ''Amerika'' is also far funnier than the Straubs can allow their movie to be.
''Class Relations'' is often witty and is beautifully photographed - in settings that suggest Kafka's imaginary America, which looks nonspecifically European - without ever being even minimally humorous.
Following the Kafka text with some fidelity, ''Class Relations'' is about the adventures of a young European immigrant named Karl Rossmann who, even before he gets off the boat in New York harbor, discovers a land where everyone, namely Karl, is presumed guilty until proved innocent, which, of course, is impossible in the Kafka universe.
However, unlike Joseph K. in ''The Trial,'' Karl is neither destroyed by his presumed guilt nor liberated by his ultimate acceptance of it. Karl Rossmann is infinitely practical and resilient as he moves with steadfast serenity from one unearned put-down to the next.
Among those he encounters are his Uncle Jacob, who has become wealthy and a United States Senator in this fabulous land; a couple of drifters - one Irish and one French - whom he befriends and who immediately attempt to swindle him in various ways; a kindly woman - a hotel cook - who is at first nice to Karl but then is disturbed by some trumped-up charges relating to his moral character, and a once-beautiful, overweight singer, who doesn't find Karl physically or emotionally stimulating.
Though the Straubs do, in fact, move their camera throughout these adventures, the camera somehow gives the impression that it would prefer to stay where it is. It's a cat that wants to sit in the sun. The minimalism is expressed in the impassive attitudes of the actors, and in the manner in which they deliver their dialogue, which sounds as if they were giving instructions on how to put on one's life jacket in case of an unscheduled landing at sea.
Robert Bresson does something similar, but the point in the Straubs' film is not to call attention to the distance between actor and dramatized circumstance, as in Bresson, but to deny the viewer any chance to respond in predictable ways.
Though Karl moves through America as an innocent, he's not filled with any crazy, Candide-like optimism. He's utterly, consistently rational, incapable of surprise and when, at the end, he seeks relief by going off to the Nature Theater of Oklahoma, one may be sure he'll rise above whatever it turns out to be. Though always misjudged, Karl has no sense of guilt, and so the system doesn't terrify him. It simply doesn't work as well as it might.
Working within a style that doesn't offer them conventional ''big'' moments, the actors are unusually good. Standouts are Christian Heinisch, who plays Karl with solemn, angelic patience; Mario Adorf, as Karl's expansive, inscrutable Uncle Jacob; Laura Betti, as the singer, and Kathrin Bold, as the cook who does her best to support Karl in the face of all of the nonevidence against him.
''Class Relations'' will be shown at Alice Tully Hall in the New York Film Festival today at 2 P.M. and tomorrow at 9:30 P.M.
The Cast CLASS RELATIONS, directed and written and edited by Jean-Marie Straub and Dani ele Huillet; in German with English subtitles; photography by William Lubtchansky; production companies, Janus Film and Fernsehen, Hessischen Rundfunk and NEF-Diffusion. At Alice Tully Hall, as part of the 22d New York Film Festival. Running time: 126 minutes. This film has no rating. Karl RossmannChristian Heinisch StokerReinald Schnell LineAnna Schnell CaptainKlaus Traube Head cashierHermann Hartmann Uncle JacobMario Adorf SchubalGerard Semaan PollunderFriedrich Wilhelm V"obel KlaraAnne Bold DelamarcheHarun Farocki RobinsonManfred Blank ChefKathrin Bold WaiterAlf Bold BruneldaLaura Betti

___________________________________________________
14. An interesting film review from Jonathan Rosenbaum
Intense Materialism:
Too Soon, Too Late
http://www.sensesofcinema.com/contents/00/6/soon.html
by Jonathan Rosenbaum
This essay is included in the catalogue for Jeune, dure et pure ! Une histoire du cinéma d'avant-garde et expérimental en France, sous la direction de Nicole Brenez et Christian Lebrat, Paris-Milan, Cinémathèque française/Mazzotta, 2000.
This essay first appeared in the book Film: The Front Line by Jonathan Rosenbaum, Denver: Arden Press, 1983.
Jonathan Rosenbaum is the main film critic for the Chicago Reader and the author of Placing Movies (1995) among other books.
Of all the films discussed at length in this book, Too Soon, Too Late (1981) is conceivably the one that has had the strongest impact on me, although I have seen it only twice. After having seen it the first time, in Spring 1982, I was sufficiently impressed to put the film at the end of my "all-time" top ten list for Sight and Sound's international critics' poll later the same year. Consequently, it seems paradoxical yet unavoidable that of all the films dealt with here, Too Soon, Too Late automatically qualifies as the most difficult and elusive to write about. My two previous efforts have yielded only a few inadequate and hastily conceived sentences in the introduction to my Straub-Huillet catalog, and a somewhat more reasoned paragraph in the conversation with Jonas Mekas which opens this book. The notes below cannot pretend to be more than an interim report; further and more extensive analysis will have to await a future date:
(a) First, a few concrete facts about the film. For the first time in a Straub-Huillet film, the texts used are all read off-screen, making separate versions in different languages possible without any recourse to dubbing. Hence the film exists in four separate versions, with the same two people - Danièle Huillet and Bhagat El Nadi - reading the three texts in each one: English, French, German and Italian. Consequently, it is the first Straub-Huillet film that can be seen in an English-speaking country without the distraction of subtitles. Otherwise, the sound in the film, as is usual for Straub-Huillet, is all direct.
(b) A few more facts: The first text, read by Huillet, is an excerpt from a letter written by Friedrich Engels to Karl Kautsky describing the impoverished state of the French peasantry on the eve of the French Revolution - accompanied by a shot moving through a busy Paris intersection. Then come longer excerpts from the Cahiers de Doléances, (1) while we see the various places in France that are described as they appear today - ranging from spots just outside Lyon and Rennes to more rural places including Tréogan, Mottreff, Marbeuf and Harville. These sequences, filmed by a mainly panning camera in June 1980, are practically all devoid of people, giving them, in Straub's words, a "science fiction, deserted-planet aspect". The second part of the film, roughly twice as long, uses a more recent Marxist text about the Egyptian peasants' resistance to the English occupation prior to the "petit-bourgeois" revolution of Neguib in 1952 - a more journalistic text by Mahmoud Hussein, author of Class Struggles in Egypt. In both sections, it is suggested that the peasants revolt too soon and succeed too late. Once again, the locations cited in the text are filmed by Straub-Huillet (the shooting of this portion was done in May 1981), basically the sites of revolutionary struggle, again mainly rural. Here the camera occasionally remains motionless - most noticeably in the longest single take in the film, which shows workers leaving a factory in Cairo. But there are also a certain number of slow lateral and circular pans, as well as more rapid views from a car moving through various villages. (The only shot taken from a moving vehicle in the first part, if memory serves, is of the busy Paris intersection.) After this section is a sort of Egyptian coda containing unsubtitled newsreel footage from TV of a speech relating to the 1952 revolution, followed by a downward pan that passes from a skyscraper in contemporary Cairo to waves from the Nile beating relentlessly against the shore.
(c) Central to the unique impact of Too Soon, Too Late - which Dave Kehr, the very perceptive critic of the Chicago Reader, called "the most sensually captivating film" he saw in 1982 - is the resonance it gives to specific places, particularly in the second part; no other film has come even remotely close to making me feel I've been to Egypt, which this film does. A lot of this has to do with tempo, rhythm, pacing: the sight and sound of a donkey pulling a cart down a road towards the camera is recorded in long shot and at leisure, with no sense of either ellipsis or dramatic underlining according to any principle other than the placement of camera and microphone in relation to the event. The extraordinary result of this technique is that one almost feels able to taste these places, to contemplate them - to observe and think about them. Some spectators find this activity tedious; many of the first spectators of Jacques Tati's Playtime (1968) complained about it in a comparable manner, claiming that "nothing happens". Yet the significant relationship between Straub-Huillet's long shots and Tati's is that something is always taking place in them, if only the spectator can learn to watch and listen without expecting to be led by the nose through the sequence.
Discovering this capacity in one's self is part of the experience the film potentially offers. Is there any other film about the countryside and landscape - barring only special cases as James Benning's work and Snow's La Region centrale (1971) - in which something is always happening in the shot? It's the absence of plot and characters that causes one's initial feelings of loss, absence and/or boredom; yet once the feel and complexity of these places begin to seep into one's consciousness, without the confusions and distractions of a story or a too-rigid thesis that might regiment or codify them, something at once mysterious and materialistic starts to take place. (Many American critics, myself included, have committed the error of identifying the mysterious aspect of the film as "religious" - an assumption I believe a European critic with more familiarity with a Marxist tradition would be less likely to make. It is ideologically interesting that American's find it difficult to recognize any intense practice that is not capitalistic under any category except religion or mysticism. The intensity of Straub-Huillet's materialism may indeed seem "religious" and/or "mystical", but such labels in this case may well run the risk of confusing more than they clarify.) Too Soon, Too Late may have no characters, but it is the most densely populated and inhabited of all Straub-Huillet's films - a paradox that the entire film is structured around.
(d) Questions of camera distance in Too Soon, Too Late, like those in Playtime, are ultimately moral questions, as well as practical ones: how does one see what one needs to see without exploiting either the spectator or the person being filmed? (Many related questions of tact are broached by the landscape paintings of Patricia Patterson.) Serge Daney has some relevant things to say about this in his lovely newspaper review of the film for Liberation (20-21, February, 1982), entitled "Cinemeteorology", which I translated for the Straub-Huillet catalog:
... [In overpopulated Egypt], the fields are no longer empty, fellahs work there, one can no longer go anywhere and film anyone any which way. The terrain of performance again becomes the territory of others. The Straubs (whoever knows their films realizes that they're intransigent on this matter) accord much importance to the fact that a filmmaker should not disturb those whom he films. One therefore has to see the second part of Too Soon, Too Late as an odd performance, made up of approaches and retreats, where the filmmakers, less meteorologists than acupuncturists, search for the spot - the only spot, the right spot - where their camera can catch people without bothering them. Two dangers immediately present themselves: exotic tourism and the invisible camera. Too close, too far. In a lengthy "scene", the camera is planted in front of a factory gate and allows one to see Egyptian workers who pass, enter and leave. Too close for them not to see the camera, too far away for them to be tempted to go towards it. To find this point, this moral point, is at this moment the entire act of the Straubs. With perhaps the hope that the "extras" thus filmed, the camera and the fragile crew "hidden" right in the middle of a field or a vacant lot would only be an accident of the landscape, a gentle scarecrow, another mirage carried by the wind.
These scruples are astonishing. They are not fashionable. To shoot a film, especially in the country, means generally to devastate everything, disrupt the lives of people while manufacturing country snapshots, local color, rancid back-to-nature museum pieces. Because the cinema belongs to the city and no one knows exactly what a "peasant cinema" would be, anchored in the lived experience, the space-time of peasants. It is necessary therefore to see the Straubs, city inhabitants, mainland navigators, as lost. It is necessary to see them in the middle of the field, moistened fingers raised to catch the wind and ears pricked up to hear what it's saying. So the most naked sensations serve as a compass. Everything else, ethics and aesthetics, content and form, derives from this.
To Daney's second paragraph, two personal footnotes should be added. Danièle Huillet, who sent me a copy of Daney's review, added one small caveat: "Jean-Marie is a 'Stadtkind' [city-child] but I grew up in the country, though born in Paris ..." And Sara Driver has suggested to me that Too Soon, Too Late may indeed be more Huillet's film than Straub's, reflecting her country background - just as En Rachâchant (1982), again according to Driver, may be more Straub's.
(e) As I suggested earlier in this book, Too Soon, Too Late inverts the usual relationship in a Straub-Huillet film between landscape and text - the landscape becoming the film's central text, the verbal text becoming the film's "setting". Practically speaking, this reduces the relative importance of the verbal texts in the films - although when I mentioned this notion to Straub, he countered that nevertheless the film could never have been made without those texts. And the documentary side of this - which is of course the major element apart from comedy separating Straub-Huillet's use of long shots from Tati's in Playtime - has specifically musical implications. The uncontrolled movements of people, animals and weather function on this terrain like improvisations that play against the "composed" framings and camera movements, somewhat in the manner of jazz. When I proposed this parallel to Straub, he replied that a principal reference point for him and Huillet while shooting the second part of Too Soon, Too Late was the late quartets of Beethoven - particularly the use of suspensions and slow tempos. The very slow pans, according to Dave Kehr, always move in the same direction as the wind, and it is largely the sense one has of the film's profound attentiveness to the material world that makes the film so singular a documentary - calling to mind the three living quotations cited by Straub before the screening of the film at the Collective for Living Cinema on April 30, 1983:
D. W. Griffith at the end of his life: "What modern movies lack is the wind in the trees."
Rosa Luxembourg: "The fate of insects is not less important than the revolution."
Cézanne, who painted Mont Saint-Victoire again and again: "Look at this mountain, once it was fire."
© Jonathan Rosenbaum, 1983

___________________________________________________
15. Filmography
1. Machorka-Muff, 1962, nach Heinrich Böll, 35mm, s/w, 18 min
2. Nicht versöhnt oder Es hilft nur Gewalt, wo Gewalt herrscht, 1965, nach Heinrich Böll, 35mm, s/w, 55 min
3. Chronik der Anna Magdalena Bach, 1967, nach Carl Philipp Emanuel Bach und Johann Sebastian Bach, 35mm, s/w, fünf Sprachfassungen, 93 min
4. Der Bräutigam, die Komödiantin und der Zuhälter, 1968, nach Ferdinand Bruckner und Juan de la Cruz, 35mm, s/w, 23 min
5. Les yeux ne veulent pas en tout temps se fermer ou Peut-être qu'un jour Rome se permettra de choisir à son tour (Othon), 1969, nach Pierre Corneille, 16/35mm, Farbe, 88 min
6. Geschichtsunterricht, 1972, nach Bertolt Brecht, 16mm, Farbe, 85min
7. Einleitung zu Arnold Schoenbergs Begleitmusik zu einer Lichtspielszene, 1972, nach Arnold Schönberg und Bertolt Brecht, 16mm, Farbe und s/w, 15 min
8. Moses und Aron, 1974, nach Arnold Schönberg, 35mm, Farbe, 105 min
9. Fortini/Cani, 1976, nach Franco Fortini, 16mm, Farbe, 83 min
10. Toute révolution est un coup de dés, 1977, nach Stéphane Mallarmé, 35mm, Farbe, 11 min
11. Dalle nube alla resistenza, 1978, nach Cesare Pavese, 35mm, Farbe, 105min
12. Zu früh / Zu spät, 1980/81, nach Friedrich Engels und Mahmoud Hussein, 16mm, Farbe, vier Sprachfassungen, 105min
13. En rachâchant, 1982, nach Marguerite Duras, 35mm, s/w, 7 min
14. Klassenverhältnisse, 1983, nach Franz Kafka, 35mm, s/w, 126 min
15. Der Tod des Empedokles oder Wenn dann der Erde Grün von neuem euch erglänzt, 1986, nach Friedrich Hölderlin, 35mm, Farbe, vier Schnittfassungen, 132 min
16. Schwarze Sünde, 1988, nach Friedrich Hölderlin, 35mm, Farbe, vier Schnittfassungen, 40 min
17. Paul Cézanne, 1989, nach Joachim Gasquet, 35mm, Farbe, zwei Sprachfassungen, 51/63 min
18. Die Antigone des Sophokles nach der Hölderlinschen Übertragung für die Bühne bearbeitet von Brecht 1948 (Suhrkamp Verlag), 1991, Farbe, zwei Schnittfassungen, 100 min
19. Lothringen!, 1994, nach Maurice Barrès, 35mm, Farbe, zwei Sprachfassungen, 21 min
20. Von heute auf morgen, 1996, nach Arnold und Gertrud Schönberg, 35mm, s/w, 62 min
21. Sicilia!, 1998, nach Elio Vittorini, 35 mm, s/w, 66 min
22. Operai, contadini, 2001, nach Elio Vittorini, Farbe, 123 min
23. Il viandante, 2001
24. L'arrotino, 2001
25. Il ritorno del figlio prodigo / Umiliati, 2003, nach Elio Vittorini, Farbe, 64 min
26. Une visite au Louvre, 2004, nach Joachim Gasquet, 35 mm, Farbe, 2 Teile, 95 min
27. Quei loro incontri. Gli uomini … Gli dei, 2006, nach Cesare Pavese, 35mm, Farbe, 68 min

__________________________________________________
16. Epilogue
She is survived by her husband Jean-Marie Straub.
Danielle Huillet, born May 1 1936; died October 9 2006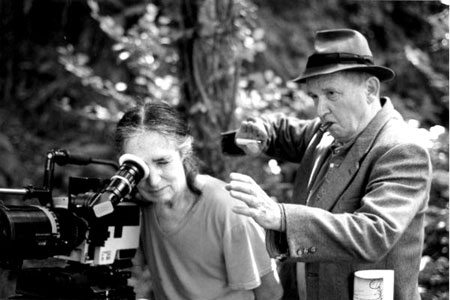 __________________________________________________
16 Beaver Group
16 Beaver Street, 4th / 5th fl.
New York, NY 10004
phone: 212.480.2099
for directions/subscriptions/info visit:
http://www.16beavergroup.org
TRAINS:
4,5 Bowling Green
R,W Whitehall
2,3 Wall Street
J,M Broad Street
1,9 South Ferry